Our blueberry season here is in the middle of the summer. Blueberries are in season somewhere because for the past two weeks Publix has had them on sale for $1.99 a quart. We're eating them as fast as we can buy them! Making blueberry crisp is one thing I like to make with them.
Here's the recipe!
1 cup flour (I used 1/2 whole wheat and 1/2 white.)
1/4 teaspoon ground ginger
1/2 teaspoon lemon zest (I didn't have a lemon so I just added a few splashes of lemon juice.)
1/2 cup butter, melted (I used Brummel and Brown.)
Preheat oven to 350 degrees. Butter a baking dish, set aside. Place the berries in a large bowl, set aside. Whisk together the cornstarch and sugar. Sprinkle over the berries and toss together. Add the lemon juice and toss until well coated. Place in a baking dish.
Combine the flour, oats, brown sugar, spices and zest in a bowl. Add the melted butter and toss until it is all well combined. Sprinkle the topping over the blueberries. Bake for 45 minutes or until the berries are bubbling all along the edges and the topping is golden brown.
Pin It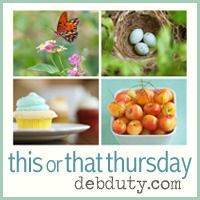 Tip Junkie
I can't wait to see what you've made! Please link up with
Katie
and me!